Hi there! Happy Monday to you. I'm back from the lovely 4 day weekend! Hope you all had a marvelous Thanksgiving.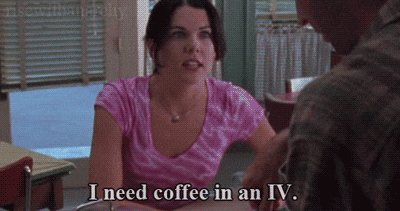 Coffee in an iv…oh wouldn't that be nice. I'm sitting here sipping a extra hot cuppa joe after teaching spin & strength training this morning so that too will do just fine.
Let's backtrack to the Thanksgiving holiday! Thursday morning I woke up early for a long run in my hood. My own little Turkey Trot if you will. I spent a couple of hours (and then some) outside enjoying the fall leaves. 16 mile run done. I did the same thing last year so I figured I'd continue on with the tradition.
Training wise I have a couple of races coming up…including the New Year's Double…26.2 on NYE and then 26.2 on New Year's Day! Yep, I am crazy like that. The medals are pretty freaking cool though.
Anyway…after the run I got all cleaned up, did a little grocery shopping then headed over to mama's for our big meal. Gotta love family time. I also made some autumn sangria and threw some nutmeg, cinnamon sticks and anise in there for good measure.
Seriously, it was so freaking good. And refreshing. Those apples and pears soaked in there for a couple of hours? Pure heaven.
Then I ate, did the normal Thanksgiving thing. I also made my skinny mac and cheese and it was a big hit.
The majority of the weekend was cold and rainy down here in Texas…which was actually nice because it put me in relax mode and I just wanted to work out and do stuff around the house. I did manage to get out for a little shopping though. I'm going to a holiday Yelp party in a few weeks so I got the cutest sweater from H&M for $10. Great deal.
And I bought this book to read on the plane since mama and I are headed to Hawaii next week (!!) for holiday vacation. Confession…I have a slight obsession with Andy Cohen and all of the shows on Bravo.
Saturday I did another long-ish run…12 miles to get in my 50 miles total for the week.
Oh…and I put up my sassy pink Christmas tree. Everything is more fun when you add a little pink.
How was your Thanksgiving? Did you/are you taking advantage of any Black Friday/Cyber Monday sales?