Hey hey happy Monday! This past weekend was a fun filled one…I got my yoga groove on and also did some running with friends. Let's recap!
Yes…the Yoga On the Bridge event was nothing short of awesome…but let's back it up to Saturday morning. I had to get a quick run in with the Irving Running Club. We did 10 speedy miles gettin' it done. Legs are feeling good since the ultra marathon just last weekend!! I've been doing lots of stretching, foam rolling and icing like a good girl. Haha. I had to teach a spin class right after the run so my running buds were nice enough to run fast with me and knock it out, all before 9 am.
The weather all weekend was pretty spectacular. I went home, got all cleaned up, and made the trek out to Trinity Groves for some quick eats over at Chino Chinatown before we got our yoga on. I was HANGRY! Chorizo breakfast tacos for the win.
This event was pretty cool because they held a day's worth of events, running, bike races, yoga and even activities for the kiddos.
Great for the whole entire family. We made our way out to get our mats situated for the 1 pm class.
Overall I loved this event…an hour of power yoga, doing lots of planks, low pushups and downward dogs. My arms & core were definitely feeling it afterwards. There were over 1,000 people who showed up too which was just awesome.
The rest of the day was real chill…Saturday nite church…resting and relaxing. My body has really been needing the extra rest lately so I was in bed my 8 pm or so! No lie.
Sunday some of the IRC crew wanted to do a funday runday…running and mimosas afterwards. We did 8 miles in the 'hood and my friend had us end the run with some pretty epic hills. It was a great day for it though.
Maxing and relaxing with the crew. Running and brunching it with friends is the absolute best.
I ended the night catching up with a little bit of The Voice. I love that Christina Aguilera is back! Just another one of my guilty pleasure shows.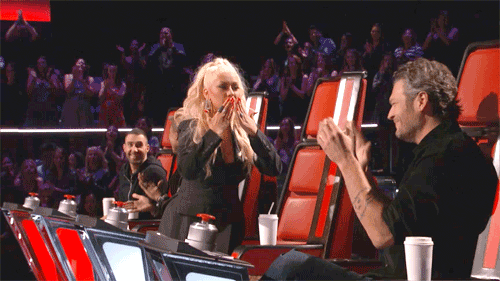 How was your weekend? What is one of your guilty pleasure tv shows?