Current mood…haha give me ALL of the coffee! Happy Monday. Hope your day is getting off to a great start! This past weekend was pretty fun filled with all of the running and all of the races.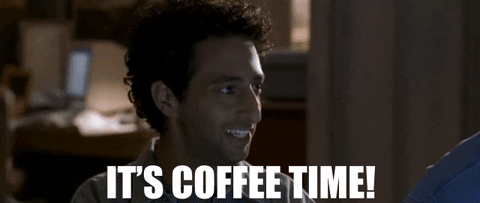 Let's recap real quick, shall we?
Saturday morning was the Dash Down Greenville 5k race. I love this race and try to run it every year. This time it just so happened that it fell on the same weekend as Rock n Roll Dallas so I figured I'd rock both races. Plus I always love an excuse to wear my snazzy shamrock compression socks. The race started right around 8:30 a.m. & it was super packed. Folks come out, tailgate…blast their music (drink green beer) and cheer you on the whole entire way. Then after there's a parade and lots of St. Patrick's Day shenanigans.
I am getting entirely too old for the shenanigans part so I ran a strong race and then called it a day. I was feeling pretty tired that morning and my legs were feeling the 5 spin classes I taught last week along with training so I'm glad I could pull out this strong 5k time despite not doing much tapering. A few seconds faster than my 5k last weekend too so I was happy about that.
That afternoon I went to the Dallas Convention Center to the Rock n Roll expo to get my bib and running swag.
I ran into some friends, did some impulse shopping and came out with this cute Texas RUN shirt. Right up my alley.
Saturday night…I ventured over to this new Dallas spot for vino before calling it a night. Wine and arugula flatbread with marinated tomatoes…heaven.
Sunday! Half marathon race day. I took the DART rail/train out to downtown with a few of my Irving Running Club buddies. We lined up at the start all ready to go.
I've run this race 6 times so the course is always familiar to me but this year they changed it up and threw in a bunch of elevation changes. I loved the neighborhoods we got to run through, Deep Ellum and my favorite Bishop Arts District. I also always love running on the Margaret Hunt Hill bridge.
The course was challenging but it was nice to change it up a bit after running this race so many times. My main goal was to finish in under 2 hours and I did just that.
13.1 number 28 done! I'm digging the bling. Thank you, RnR.
Afterwards I ran into some more of my old buddies including my girl Ann! We used to run all of the races together back in the day. She is my true blue runner friend.
I also randomly ran into this awesome gal at the finish…I always love meeting local blogger peeps in person! She rocked this race and had a slammin' PR!
Post run eats…waffle benedict with braised short rib from Ida Claire. Holy cannoli talk about the most delicious thing I've ever eaten in my life. I must do that again soon.
How was your weekend? Did you run and/or get your brunch on?