Monday mood. Why YES…Phaedra. I would love some coffee. Thank you for asking! Coffee and Mondays go hand in hand…am I right?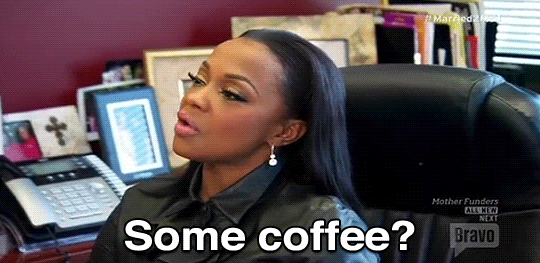 and yes…I think I am going to get this shirt in every color. Right up my alley.
Hope you all had a lovely weekend. Mine was quite busy over here! I moved into a new place, got some running in and hung out with friends. Overall it was a productive, yet fun time.
Friday I had the day off from work (sorry, no TGIFriday Faves post!) and that day was moving day. I had all of my boxes ready to go. Thankfully I hired movers and my mama took a half day to help so the process was super smooth. I actually don't think I've had a move go that smooth before! Check out God Brothers and Sisters moving company by the way if you're in the Dallas area. They are freaking awesome.
Saturday I got to escape from moving mayhem for a long run with one of my IRC buds. It rained earlier that morning but the rain was clear after 8 AM or so. I got in a total of 12 miles that day.
Lunch time with mama…tacos and margaritas from Taco Diner. Well deserved I would say.
Saturday evening was a little trivia night with friends at Jack Mac's Swill and Grill. I had never been to this place before but apparently they do trivia every Saturday! It was a fun time, definitely a must do again. I also hear they have a great brunch.
Sunday runday…7 very easy miles around the lake. I was even able to stop and get a shoe pic.
I also opened a new to me pinot noir. It wasn't my favorite (Meiomi is still my favorite pinot hands down) but I had to do a little taste testing. One of the perks of being a fitness instructor…sometimes your students give you great gifts, like wine. They know me well.
The highlight of the weekend…a lovely sunset from my brand new balcony with a stellar view of the lake. Seriously in love with those colors.
How was your weekend? Did you get into anything fun?