I was up pretty early with the IRC crew for this morning's run. I have to say as it gets darker outside in the mornings my warm bed just gets even more and more cozy. But I'm so thankful for friends that get me up and out the door for some miles.
I have 2 die hard friends that for the most part I can really depend on to be there in the mornings. We like to call ourselves the IRC breakfast club. Early morning runners for the win.
So as it gets darker and darker earlier I know some folks seem to lose the motivation to get it done early. I tell you…lately I've been hearing lots of excuses from friends in my running club. Hey…I know, I get it. We all aren't morning people and that is okay. But especially as it gets cooler it becomes harder to want to get up, grab those layers of clothing and get out the door. So here are some ways you can stay motivated to get those miles in during the cooler fall and winter season.
1. Stay close to your dedicated, die hard morning runner friends. Those people are your tribe. You know the ones…they are up early and ready to go run with you most days of the week. These peeps will become your besties in the winter months. You basically know you can always rely on them for an early run to get 'er done.
2. Get your clothes, gear etc ready to go the night before. It makes it 3,000 times earlier to wake up and roll out the door if you stay prepared.
3. Always keep your goal in the back of your mind. Whether it's to reach a certain weekly mileage or an upcoming fall marathon. You know what it's going to take to get there. Hard work, dedication and often times early wake up calls to get your run on.
4. Know that in the end you will be SO happy and feel accomplished that you got it done. See part of the reason why I love to run in the morning is I can be kind of competitive…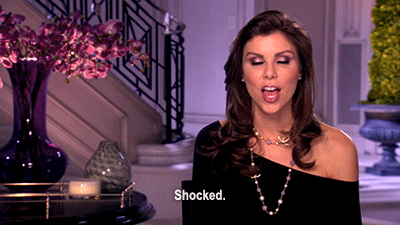 I know, Heather Dubrow is even surprised. Anyway, I like to be the first one to get the run done. The early bird gets the worm so to speak. Sometimes I do not like this Type A part about myself. But hey, someone has to be the Type A cray cray runner. I guess that is me. It's okay, my real friends already know that I'm crazy and they accept me as I am.
5. Promise yourself a hot and cozy beverage and delicious hot shower after a chilly run. This pretty much always keeps me motivated to run fast and get it done. I sooo look forward to that hot and steamy shower afterwards. And yes…the coffee. Oh coffee how I love you.
What are some ways you stay motivated to run early in the fall and winter months?