Well hello there! I was up early for 10 miles in the 'hood. Definitely much needed run therapy after a wild election night. I have to admit I was still in bed just before 10 pm because I knew I'd wake up to find out who the winner was. My twitter feed was super hilarious last night though. Almost more interesting than the actual coverage.
The election craziness had me feeling kind of like this though. Glad all of the back and forth is said and done.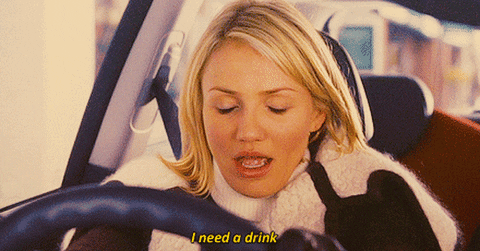 Without further ado let's get straight to the spin playlist, shall we?
Check out where I'll be teaching next in the Dallas/Ft. Worth area here.
Enjoy the ride!
Setting Fires- The Chainsmokers: Warm up
Gone- Afrojack: Jumps
I Don't Like it, I Love it- Flo Rida feat Robin Thicke: Standing run
Love On Me- Gallants: Sprints
In Common- Alicia Keys: Active recovery
Somebody- Natalie La Rose: Tapbacks
Applause- Lady Gaga: Climb 5/6/7
Time of Our Lives- Neyo & Pitbull: Climb 6/7/8
Arabian Nights (Melsen Edit)- Francisco Diaz: Accelerations
TKO- Justin Timberlake: Climb 7/8/9
Trouble- Offaiah: Accelerations
Starships- Nicki Minaj: Seated/standing run
House Work- Jax Jones: Climb 8/9/10
Shots- LMFAO: Sprints
Math- Quin: Cool down
Tell me something random about your day!
What's for dinner tonight?
Wine. Ha!