It's a great day for some spin playlist action and also for some random thoughts. So, just play along…will ya? I've got lots of great songs for your workout, spinning and running pleasure.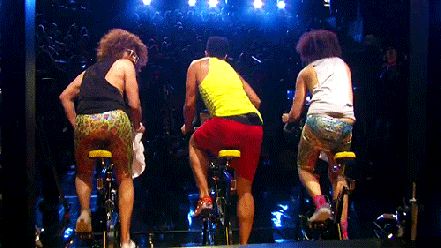 Let's get straight to it…the thoughts first. Buckle up.
-Every run this week has been starting and ending in the pitch black dark before the sun comes up. Which kind of has me looking like this. Thankful for coffee and 9 p.m. bedtimes though so or else I'd be a true zombie.
-Can I just be honest? I do not like tapering. I know it's a necessary evil. Runners do you feel me!? Let me just put it this way. I like to run a lot. A LOT. Always, all the time. Cranking up mileage all day every day. It keeps me sane and helps me not want to punch people in the face all day long. By the way! I'm really a positive person. I promise you! I generally love people….HA. Most of you know I am happy go lucky already (because of endorphins). Anyway. I am hoping scaling back the running mileage pays off come Sunday's marathon. 26.2 number 22 (yes, Chelsea…we know). I'll be like a caged animal ready to go.
-I'm starting to only want to drink black coffee. I know. Who am I? I am an almond milk latte kind of girl. Black coffee lately though has been my jam.
-I'm excited to get back to trail running after Sunday's marathon. I need me some nature time. Plus I have a trail ultra coming up in 2017 so I need to get back to it. More on this later. I like to keep ya'll in suspense.
Lovely.
-I have an audition coming up to teach at a local boutique spin studio and I'm pretty excited about it. Super fun place! And they have fun things like brunch rides and Wine Wednesday. Hello awesomeness! I'll let you know how it goes probably next week.
-I need a separate budget specifically for fall/winter boots. I basically wear nothing but leggings and boots this time of year. Makes my heart happy. And yes, leggings over pants/jeans hands down.
-Life has been so busy lately but I'm looking forward to putting up my pretty pink Christmas tree later on this week. This is from last year. Yes it's cheesy and girly and I love it oh so much.
Enough random thoughts, onto the jams! Check me out at the following 24 Hour Fitness locations.
Let's go for a ride!
I Got You- Bebe Rexha: Warm up
Crush On You- Lil Kim: Standing run
Moves Like Jagger: Maroon 5- Climb 4/5/6
Fireball- Pitbull: Sprints
Bounce Back- Big Sean: Tapbacks
Ayo- Chris Brown feat Tyga: Rolling hills
Worth It- Fifth Harmony: Jumps on a hill
Habits (Chainsmokers Mix)- Tove Lo: Climb 5/6/7
House Work- Jax Jones: Accelerations
Carry Out- Timbaland feat Justin Timberlake: Active recovery
Energy- Drake: Climb 6/7/8
I Would Like- Zara Larsson: Tapbacks
Tonight Belongs to U- Jeremih feat Flo Rida: Climb 7/8/9/10
Flawless (DJ Taj Mix)- Beyonce: Accelerations
Wishing- DJ Drama: Cool down
Any random thoughts today? What songs are you loving lately?