Happy flippin' Friday!! Yeah…I kind of wish I would do a flip like Santa. That is my current mood…I'm ready to enjoy the weekend, do some Christmas celebrating and last minute gift shopping!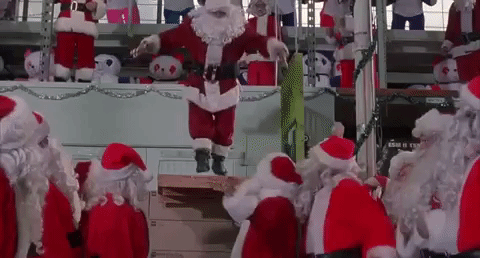 Let's get to this week's faves!
-Speaking of Santa, black Santa has officially made an appearance in the office here at work. Gotta love it! This actually belonged to my mama (I have no idea where she got it) who is a retired schoolteacher so I had to take it and make it cool again.
–Fast holiday sweets and treats. Me and a friend are making cookies as gifts this weekend so I have my eye on that hot chocolate fudge.
–10 worst pieces of running advice. Although yes, I have purchased a new outfit this one time or two for a race. #guilty
–How many of these cocktails have you actually tried? 26 out of 74. I'm mostly a vino gal.
-Playing around on the trails this week. I'm actually so excited to get back to trail running with buddies this weekend. Should be fun.
-This quote. I love me some fierce lady friends. They are simply the best.
How was your week? What are you looking forward to this weekend?
Getting some runs in (including trail running), getting my hair done, ugly sweater Christmas party!