Hey there! Busy hump day so let's get straight to the spin jams, shall we?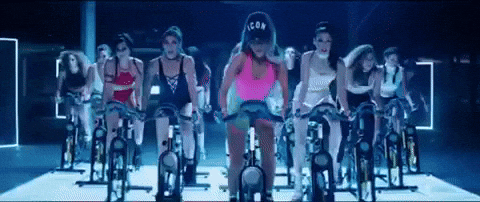 Come join me for class at any of the following locations in the Dallas/Ft. Worth area!
And I have to say…you should really just log on to Spotify…follow my playlists under 'thedancingrunner' and run to some of these songs. This particular one was perfect for my run this a.m.!
Let's go for a ride!
Jump- Lupe Fiasco feat Gizzle: Warm up
Together As One- Dropgun: Standing run
Fiesta- Bomba Estereo feat Will Smith: Sprints
Pillow Fight- Gallants & CID (VIP Mix)- Tapbacks
Whip My Hair- Willow Smith: Climb 5/6/7
Setting Fires (Sigma Remix)- Chainsmokers: Climb 6/7/8
Watch Me Whip- Silento: Jumps on a hill
Hey Baby/Drop it to the Floor- Pitbull: Accelerations
Outside- Calvin Harris, Ellie Goulding: Active recovery
Waist Time- Diplo: Jumps/Tapbacks
Red Nose- Sage the Gemini: Climb 8/9/10
Back & Forth- B.o.B.: Seated/standing run
Morning After Dark- Timbaland: Climb 9/10/11
The New Workout Plan- Kanye West: Active recovery
How Low (Remix)- Ludacris: Team sprints
Don't Think They Know- Chris Brown, Aaliyah: Cool down
What songs are rocking your workouts lately?