I did a post on this a while back but since life has changed in the last few years I thought I'd do a day in the life post on my routine as of late. Life is still pretty busy but I've tried to manage to find a balance in the midst of it all. Having two jobs is always fun (full time working behind the scenes writing for television, part time fitness instructor) so it can get hectic from time to time. Gotta love it.
5-5:30 a.m.: Up and at 'em for an early morning run with the Irving Running Club. I host this morning run group during the work week, so often times I will run with them, or run solo on days that we do not meet. The best way to start the day…see a stellar sunrise.
7-7:30 a.m.: Shower, have a banana. Do some yoga stretching/foam rolling in my living room. Gotta stretch out those tight runner's hips, calves and hamstrings.
9 a.m.: Get to work, check some emails over my morning coffee. Put out a few early morning fires before our live show.
11 a.m.: Live show (Marcus and Joni on Daystar if you watch Christian TV, it's entertaining I promise you!) sit in the control room doing behind the scenes producer type stuff.
Noon: Show is over, lunchtime. Sometimes I'll go for a 2nd short run for the day or I'll wait until after work.
5:30 p.m.: Head out from work, maybe short run to warm up before heading to job number 2 for the day. Spin cycle at 24 Hour Fitness.
6:30 p.m.: Teach class at the gym for an hour, maybe lift some weights after class if I have time.
7:45-8 p.m.: Shower, eat dinner (usually prepped or something that I bought from Trader Joe's) while catching up on the Real Housewives of Atlanta or some crazy reality shows.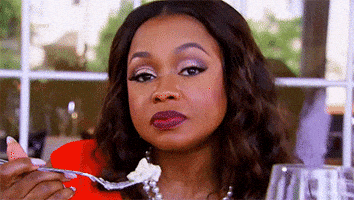 8:30 p.m.: Accidentally fall asleep on the couch while watching said shows.
9:00 p.m.: Drag myself to the bed, bedtime and lights out by 9:30-ish.
Then get up and do it all again! So now you know.
What does your day in the life look like?