As usual I have awesome workout tracks for your eardrums today! Hope you enjoy. And follow me on Spotify if you have not already under thedancingrunner.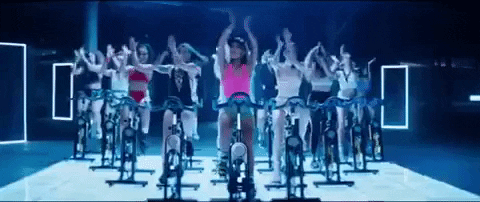 My weekly spin cycle schedule can be found here.
Let's go for a ride!
Bon Appetit- Katy Perry: Warm up
We Make it Bounce- Dillon Francis: Jumps
I Like It- Enrique Iglesias: Accelerations
Bad & Boujee- Migos feat Lil Uzi Vert: Hill climb
Sweet Memories: CID, Kaskade: Sprints
Sweat- Snoop Dogg: Rolling hills
Let's Go- Calvin Harris: Tapbacks
Pop Lock & Drop It- Huey: Jumps on a hill
Bad Language- Topi: Accelerations
Don't Tell 'Em- Jeremih: Active recovery
Sixes- D.O.D.: Hill climb
Pump It- The Black Eyed Peas: Tapbacks
Make My Love Go- Jay Sean: Hill Climb
We Wanna Party- TJR Savage: Sprints
The Hills- The Weeknd: Rolling hills
Distraction- Kehlani: Cool down
Light My Body Up- Nicki Minaj: Warm up
Ice Cream Paint Job- Dorrough: Standing run
ILYSM- Steve Aoki: Rolling hills
Drive- Sick Individuals: Sprints
Nobody Else But You- Trey Songz: Rolling hills
This is What you Came For- Calvin Harris, Rihanna: Tapbacks
Trouble- Offaiah: Hil climb
In the Night- The Weeknd: Jumps
Alright- Pitbull: Tapbacks
Run Up- Major Lazer: Seated/standing run
Get Me Bodied- Beyonce: Rolling hills
Tuesday- Drake, ILoveMakonnen: Hill climb
Good Times- Mr. Belt & Wezol: Hill climb
Into You (3LAU Remix)- Ariana Grande: Seated/standing run
Mr. Saxobeat- Alexandra Stan: Sprints
Don't Hold the Wall- Justin Timberlake: Cool down
What songs are rocking your workouts lately? Share some of your Spotify faves with me!