I don't know about you but in Texas things are really starting to heat up! With triple digit days it can be hard sometimes to squeeze all of the running in. And I know most blogs are preaching the whole 'how to beat the heat' spiel which hey, can also be important safety wise. But since I am rebellious I thought I'd provide you with a few reasons why you shouldn't avoid the heat. Heat training can sometimes be your friend! Here's some reasons why heat training can work in your favor.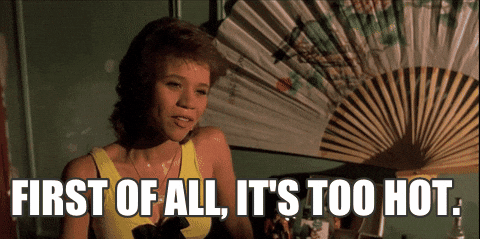 1. It can make you mentally/physically IRON CLAD strong as a runner. As you know some of the most successful distance runners train in all kinds of weather. Snow, sleet, pouring rain or oppressive heat. Reason being is because come race day you simply cannot predict what the weather is going to be like. So to mimic unexpected conditions you need to prepare for the craziest of scenarios. And yes, because runners are crazy and we love it.
2. Training in the heat will get you acclimated to summer running faster. If you only train in the early parts of the morning it may take you longer to get accustomed to running in summer weather. So a lot of times I will do a bulk of my miles in the morning and if it is a double run day for me I will do something shorter/faster in the afternoon. This is one of the things I believe has helped me to improve (with a number of PRs) in the last year. Hey, hard work pays off and the results will always show. Believe it.
3. It is a GREAT detox! Some days I crave running in the crazy summer Texas heat. I have run in triple digits many times before and it is kind of like hot yoga. Lots and lots of sweat going on. Gotta love it.
4. Just remember to hydrate, keep the runs fairly shorter in the hottest parts of the day, and find some shade if you can. Listen to your body, if you are feeling sick or like you are dehydrated be sure to take care of yourself. Hydrate plenty after and during the run and you should be good to go.
How is your training going? Do you enjoy summer running?
I used to loathe it honestly but I feel like now that I'm more fit and running more, summer running is a lot easier than it used to be.