Hi hey and hello! Hope your hump day is fantastic. I've got some hot workout tracks for your eardrums today! Hope you enjoy.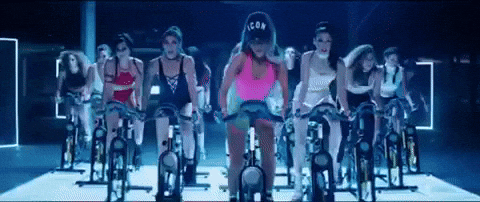 And be sure to check out where I'll be teaching spin class next in the Dallas area! I also post Spotify playlists here on a weekly basis.
Let's go for a ride!
Just a Lil Bit- Frey: Warm up
Know No Better- Major Lazer, Camila Cabello, Afrojack, Travis Scott, Quavo: Accelerations
Case of the Ex- Mya: Hill climb
ILYSM- Steve Aoki: Standing run
Woah!- Black Rob: Rolling hills
Get Busy- Sean Paul: Sprints
Carry Out- Timbaland, Justin Timberlake: Jumps on a hill
Work- Ciara: Sprints
Campaign- Ty Dolla Sign, Future: Hill climb
Posion- Phil N Good Remix: Accelerations
Dear New York- Firebeatz: Active recovery
Glamourous- Fergie: Tapbacks
Cooler Than Me- Mike Posner: Rolling hills
On the Floor- Jennifer Lopez: Tapbacks/Jumps
Push It- O.T. Genasis: Sprints
If- Janet Jackson: Rolling hills
Jungle- H.E.R.: Cool down
What songs are you grooving to this week?