It's that time again! Spin playlist Wednesday. I've got some great workout tracks for cycle and fitness enthusiasts alike! Hope you enjoy. And check out where I'll be teaching next if you're local.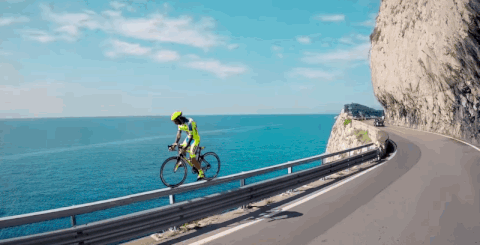 Um, can we talk about how crazy that gif above looks?! That dude has some powerful legs and core.
Also follow along on Spotify where I post playlists on a weekly basis!
Let's go for a ride!!
Told You So- Miguel: Warm up
Kumbaza- Chuckie: Accelerations
Tambourine- Eve: Rolling hills
Just a Lil Bit- Frey: Jumps
On the Floor- J.Lo: Tapbacks
Reverse- Sage the Gemini: Rolling hills
Energy- Drake: Seated/standing run
Freak (And You Know It)- Joe Stone: Taobacks/hill climb
Body Operator- DJ Spin King, French Montana & Jeremih: Sprints
Like This- MiMS: Active recovery
In The Air- Bad Royale, Killa Graham, T-Pain: Hill climb
Run This Town- Offaiah: Accelerations
Bad & Boujee- Migos: Rolling hills
Sweet Memories- CID: Jumps on a hill
Electric Feel (Justice Remix)- MGMT: Hills climb
After Party- Dorrough: Sprints
South of the River- Tom Misch: Cool down
Tell me something random about your Wednesday!
Work is crazy – I am powered mostly by coffee and running today.