Running clubs and groups are such a fantastic way to develop accountability. For those of you that train primarily solo, it can definitely be a great way to shake up your training and stay motivated during times when you'd rather be sitting on your couch eating popcorn and watching Netflix!! Here are a few pointers when dealing with running in social groups and ways to get the most out of being involved in a runner tribe.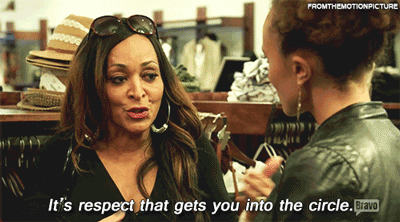 Yes, Karen from Real Housewives of Potomac said it best.
–Leave the headphones at home. Or if you must keep one in one ear and not both. Get to know the people you are running with. Chatting with runners especially during a long run is a great thing and you don't want to be distracted by music blaring in your ears. It's best to stay alert and aware of what is going on.
–Be familiar with the route. If there is a route that is posted online or something ahead of time try to familiarize yourself with it. That way in case you get disconnected with the group you are aware of things and you can get yourself back safely.
–Establish a general pace prior to the run. Running groups are great for this typically because usually there will be someone out there that goes at your pace. Be sure that the folks you are running with run a similar speed as you, or if they're faster that you are able to adapt and keep up. It can be to your advantage to run with faster friends sometimes too. Try it.
–Running talk. Try not to be a BRAG-alicious runner. We get enough of that on social media. We are all on our own running journeys. Honestly unless someone asks, I don't bring up the fact that I've run 100 or 50 miles. It's generally not relevant to the conversation. Ask people about themselves and learn about what makes them tick.
–Run opposing traffic. This one is so important. Especially in the morning and with blind curves in the road. A lot of drivers just simply are not paying attention. Always assume that they aren't and do what you need to do to stay safe.
Any more rules of running etiquette to share with the group?