How was your weekend?! Mine was both relaxing and productive! It is time to recap some miles!! I am ramping things up for some upcoming races (and also a 50k ultra that I'm pacing at the END of February.) I was able to get in 85.6 miles of running last week! Let's review and see how it all went down.
Monday AM- 7.12 miles and all smiles. Always love running on my lunch hour. Weather in Dallas the last 2 weeks has actually been quite beautiful – temps in the 50s and 60s just about everyday.
Monday PM- 3.22 miles before teaching a class at the gym. I threw some speedy strides in there for good measure.
Tuesday AM- 8.23 miles with my early morning buds. It's always good conversation and we throw some hills in at the end. Hills are definitely speedwork in disguise. There are a few hills in my hood that I love to hate but in the end it is all worth it.
Tuesday PM- This run was technically not PM, lol but we will just say that it was. Clearly I was feeling spunky and ended up doing a lunch run. 4.13 miles done.
Wednesday AM- 10.07 solo miles. Of course the sunrise was absolutely beautiful. Heaven.
Wednesday PM- Happy hour run with WRRC. 6.25 miles with an ice cold adult beverage after.
Thursday- 8.24 way too early miles with the run club. Still half asleep.
Friday- Run streak week. Typically my rest day but I ran on this morning. 5.1 miles still feels like a bit of a rest day at this point.
Saturday- 20.03 miles back with the run co-cop. We did some running in the rain & hung out at the Taco Joint after and it was too much fun.
Sunday AM- 5.23 mile Sunday funday morning on the trails.
Sunday PM- 8.03 miles with my girl Ann!! I have known her for a few years and she is one of my true blue running buds. So good to get back on the roads with her again and catch up over some miles.
There you have it!
And, just for giggles, let's throw a Blue Ivy gif in there!! Did anyone watch the Grammy's last night? I'm hearing her sassiness on the front row was just awesome.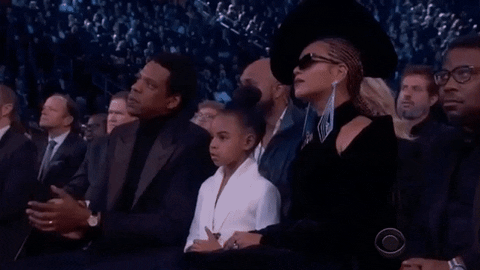 Hey runners – tell me about your training lately? The good, the bad, the ugly!!