I don't know about you, but I really get excited when Thursday comes around. Mostly because it is RANDOM thoughts Thursday and I enjoy spilling the tea (translation, this means dishing all the latest and greatest) on my life and just the craziness that goes on in this brain of mine. And yes, sometimes the talk is about running/fitness and sometimes it is not!! So let's do the "it's almost Friday" dance and get to it!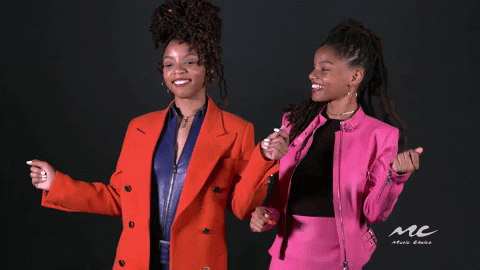 –Have you all seen Black Panther yet?? I was actually supposed to go see it last weekend with my mama (we went Sunday thinking the crowds would not be as bad) and all of the theaters were sold out. It was insane. I did not know how many people were really checking for that movie! (Apparently I live under a rock sometimes) And now I will be seeing it this weekend but I kind of feel like that ODDball  that missed out on the opening weekend excitement. Did you like the movie? Don't spoil it for me.
–I bought some new shoes and they came in yesterday so I went for my 2nd run of the day to test them out. Yes, I think Brooks Running Pure Flow was made just for me. My feet love them. It has been raining ALL WEEK here (are we in Seattle?) so I am going to wait a few more days for the rain to clear out to test them some more. Yeah, because jumping in puddles and mud with colorful bright shoes on- no thanks. But, it is amazing how new shoes make your feet move a little faster.
–I am an official pacer for the Cowtown 50k this weekend (Sunday) and super excited for that. I've been a pacer for a few races in the past (half and FULL marathons) but this will be the first time I've paced the ultra. Kinda nervous and excited for that all at the same time! 10 something pace is fairly slow for me lately so I have a feeling I will be looking at my watch a lot. Glad I have a pace partner. He actually ran the 100 miler with me last year so at least I'm pacing with someone I know.
–Can we talk about how reckless drivers are in the mornings during early morning runs? This morning I ran with my buddy and we were dodging puddles like crazy because of all the rain – then almost got splashed several times by drivers. I really do think some drivers purposely drive through puddles to splash runners. Especially rednecks driving pickup trucks. Gotta love Texas.
–Sometimes I really want to just delete all of my social media and focus on just blogging. I am NOT going to do that by the way (I am in TWO running clubs right now and would miss out on all of the social run invites talk about FOMO) but I have fantasies about it. I really still love blogging though. Do y'all watch vlogs? Maybe I should do some of those. I'm kind of shy and awkward though on camera, lol. Not sure how well that would go.
And there you have it!
Tell me some of your random thoughts this week!