Hi, hey and hello! It is my favorite day of the week. Random thoughts Thursday! This is the day that we just talk about any and everything under the sun, sometimes it is running related and other times it is definitely not! So let's get to it…
–My little breakfast run club is absolutely everything right now. You've gotta love reliable run buds, right? Well next week we have decided we are going to start up "track party" on Thursdays. I have been doing most of my faster runs and speed work on the roads lately so I'm actually so excited to get back on the actual track. I love the SOFTNESS of the track too!! It's all bouncy and fun. Way better than the harsh pavement.
–Are you a person who actually enjoys running on the treadmill? I am not going to judge you either way but I kind of wish I liked It more than I do. I am just a tad too A.D.D. to really feel like I am getting much accomplished via the 'mill. I know people enjoy doing their speedwork sometimes on there? I used to do that back in the day so I could see how that may be enjoyable. But a long run on a moving belt while staring at the wall – you can forget that noise. I guess since we don't have a ton of bad weather in the winter time I am never in a situation where I HAVE to use it. Oh well.
–Do you know what drives me nuts?? When spellcheck continuously corrects what I type. YES I know it is not in your dictionary but trust me, "turnt" is a word. I don't care about your little red line that is telling me that it isn't. I do what I want.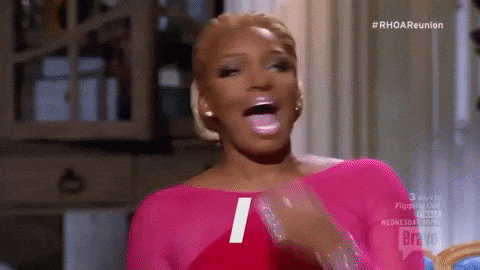 –Okay so there is still absolutely nothing that interests me on television (hashtag I'd rather be running) but I am back on a RHOBH/Beverly Hills housewives kick. I think I mostly enjoy this one because I feel like they are probably the most LEGIT of all of the housewives in terms of their wealth and living status. Their houses are just insane and I feel like I'm watching HGTV because I'm just in awe of all of it. Also, they have a new girl on there and her name is Teddi Mellencamp – yes she is John Mellencamp's daughter. Love her! And I usually don't like the newbies. I like the dynamic of the group this year.
Also, who remembers the dinner party with the crazy medium lady? I could watch that episode a million times. LOL that lady was a trainwreck.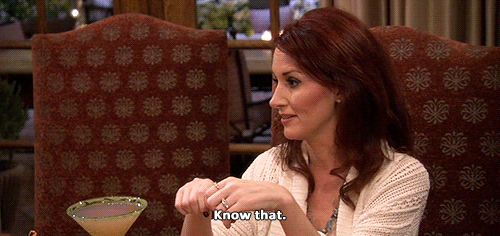 –Is it just me or are all Chipotles NOT created equal!? I love going there for my chicken/rice/veggie bowl but I have now realized I can only go to the location by my job. I've tried going to the one by my house but the kitchen in the back always looks messy and MORE THAN ONCE the rice has been undercooked. I am sorry but you are playing with my emotions, Chipotle. Get it together please.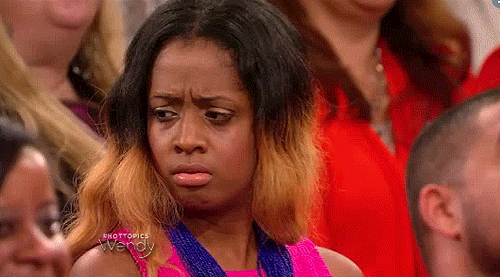 –I have been trying to hunt down this wine for the last week or so because a friend keeps telling me how amazing it is and I have a feeling I will never find it. Apothic Inferno. I love all of the Apothics I've tired thus far especially Apothic Red. Apparently the wine is aged in whiskey barrels and that just sounds incredible. I think it may be a seasonal item? Anyways if you all track it down please alert me ASAP. Not being able to find it is driving me nuts.
What is on your mind today? Tell me about the randomness!