Welcome to my favorite part of the week!!! Ahh yes that would be random thoughts Thursday, where I share the latest and greatest in my daily musings with you all. It's usually running related, but sometimes it definitely is not! So, without further ado let's get to it!! 
–The weather this week has been true Texas springtime humidity craziness. Yes, it is getting to that time of year where I am absolutely drenched after doing these morning runs. I am going to have to start bringing a beach towel with me to my runs with friends just so the sweat doesn't just get all over the place and all over my car when the run is over. Too much information? Well, sorry but I am not sorry. 
–I still have mad love in my heart for the signer Maxwell. This week I have been listening to some of his old albums. And all of the neo soul jams really. Any Maxwell lovers out there?? And honestly, where on earth did he go? I kind of feel like we are overdue for some new Maxwell music soon.
–I actually am not a HUGE Prince fan like some of my friends are, but this guy truly did have the BEST facial expressions. To basically just about everything. Man, his reactions to stuff really did and do give me so much LIFE.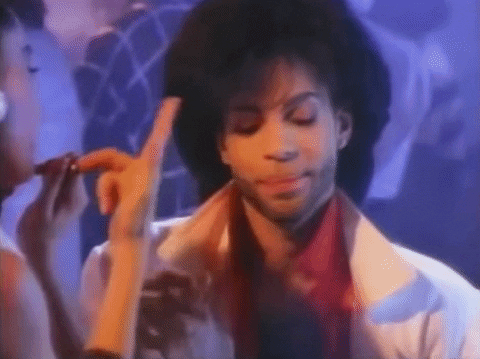 –In the past week or so I've been eating a lot of vegetarian style foods? My new thing right now is black beans with jasmine rice and green onions. Don't ask but I have an obsession with green onions. I could eat green onions every dang day. Maybe I should just be a vegan and see how this goes. Wait, nah, I would miss cheese and eggs waaay too much. Also I don't care about your flaxseed and your vegan cheese options. A girl's gotta eat some animals every now and again. 
–WHAT on earth is going on with Kanye West?? Good gracious he has absolutely lost it. Kanye no one gives a flying flip about your political views. Sit down somewhere and make us some good ass music. THAT is why we like you, bro. You don't go to a Chinese restaurant to order a hamburger, now do you? So know what you are good for and stop talking and keep on rapping. Thanks.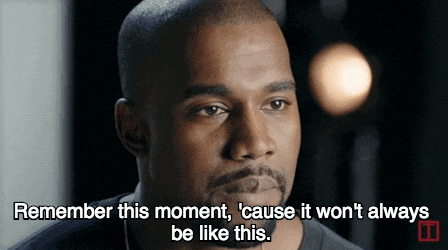 –
Quit babbling, Yeezy.
–Lately since I have a massive ultra road race coming up I've been running nothing but roads but the hippie in me is dang MISSING me some trails. I mean, you know you really love trail running when you start missing being in the woods, by yourself. I guess you can officially consider me a barbarian, then. I've signed up for an trail ultra 56k coming up in May after Hachie. So this should hopefully solve the problem. I need my deep woods therapy in a major way.
What are some random thoughts you have on this lovely Thursday?!