Hey hey hey! Busy day today but thought I'd drop in and provide you with a spin cycle playlist for the week! Hope you do enjoy!
And be sure to follow along on Spotify and check out where I'll be teaching spin cycle class next in the Dallas/Ft. Worth area.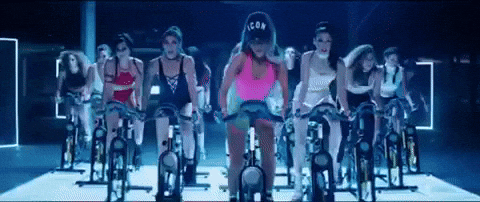 Let's go for a ride!
You Already Know- Fergie, Nicki Minaj: Warm up
Work it Out- Pitbull, Lil Jon: Tapbacks
Fun- Kaskade, BROHUG, Mr. Tape, Madge: Rolling hills
Stir Fry- Migos: Accelerations
Nice for What- Drake: Jumps
Cool for the Summer (Todd Terry Mix)- Demi Lovato: Tapbacks/Hill climb
2 the Floor- UNIIQU3: Active recovery
Pep Rally- Missy Elliot: Team sprints
Feels Like Yesterday- Mike Williams, Robin Valo: Jumps on hill
Bad Decision- Chromeo: Rolling hills
Don't Wanna Go Home- Jason Derulo: Seated/standing run
Plain Jane Remix- ASAP Ferg: Sprints
ILYSM- Steve Aoki: Hill climb
Fire Drill- Ton Dyson: Sprints
Everytime Tha Beat Drop- Monica: Rolling hills
Find You- Kaytranada: Cool down
What songs are pumping up your workouts this week?