I truly do not have time today for random thoughts Thursday-BUT YOU KNOW WHAT!? I told myself I would go ahead and write something real quick anyway. Hello blogger dedication. Just to get the thoughts out of my head. A therapy of sorts, ya know? Gotta love that.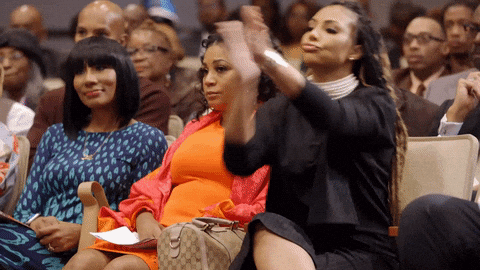 You gotta love sassy Tamar Braxton.
–Work has been insane lately and all I want is a pool and a drink with an umbrella in it. Yep, vacation needs to happen soon. Maybe after my 100 miler. Ha.
–My work computer is not charging my phone fast enough for my liking at the moment. Hashtag first world problems. Also my phone needs basically a full charge by the end of the day so I can teach my spin class, since all of my music is on my phone. Yes, this is basically my everyday struggle.
–Also, how cool is this? Step right up and get your Thanksgiving tunes.
–I went to a trail running film festival last night! It was super fun and I got a chance to catch up with all of my trail buds.
–Basically it was a whole bunch of short films for like 2 hours.
Some of them were actually really interesting.
-And some were kind of like okay WTF was that.
–I really want to go salsa dancing. Again, these are things I need to do, after my 100 miler. LOL.
-I still can't believe Thanksgiving is next week.
-Speaking of which, my dad wants to make caribbean meatballs with rice? I've got no clue why.
–I saw a MASSIVE coyote on my run this morning. He was lightning fast when he saw me, and ran in the other direction. It took me by surprise how fast he ran more than the fact that I actually saw him.
–Pretty sunrises are back. Oh how I love them so.
What are some of your random thoughts this week?