Today is another random episode of random thoughts Thursday! This is the day where I share all of my random rants and confessions with all of you. Because sometimes I like to be a totally open book. I'm not always like that but I guess this can be a great form of therapy, yes!? So grab a cup of joe and let's get to it.
-For some reason my alter ego "CC" has made a couple of appearances this week…I'm mostly a happy go lucky person both on the blog and in real life. But- Cranky Chelsea sometimes happens. It is funny though, because most people that I work with say that they've never really seen me upset. So, maybe I don't look as cranky as I really am? Well I guess that is good.
–One of my coworkers has finger puppets in her office that she brings out to play whenever things get hectic. I think I need to get me some finger puppets. That could be a fun thing.
–I will say that Black Santa always makes me very happy. He is kind of my version of finger puppets.
–Do you like smooth jazz? For some reason smooth jazz always makes me feel calm. That and ocean noises.
-I used to go to my dad's office when he had he practiced medicine in Dallas (he is a retired doctor) and in the waiting room he would always have smooth jazz playing. So I think that is where it comes from.
–Also, running calms me down quite a bit. Yes, it is and always will be my therapy.
–I've signed up for the Hachie 50 miler again next year! This will be the 4th year in a row I've run it and my FIFTH 50 mile race! A little humble bragging there. It will always be my favorite ultra.
–It has been rolling around in my mind that maybe I'm done with running marathons for a while. Marathons are boring to me right now. Maybe I should just exclusively run ultras. But then I know in the spring I'm going to want to run shorter races again. Shorter races means 26.2 miles. HAHA. I feel like I had this same exact feeling about the marathon distance last year. It comes and goes. But really I simply enjoy ultras more than I do marathons. That fact has never changed. I am an ultrarunner unicorn, what can I say.
-Here is a fun game! Ask me if I feel this way in the month of April of next year. No lie I will email you a Starbucks coffee if you are the first one to ask and my answer changes. Mark my words.
–Speaking of java, had a MAPLE CAYENNE latte with almond milk this morning and you guys it was absolutely everything I could have ever asked for. You must check this place out if you are in DFW it is phenomenal. They also have a LAVENDER latte and some other things I plan on trying.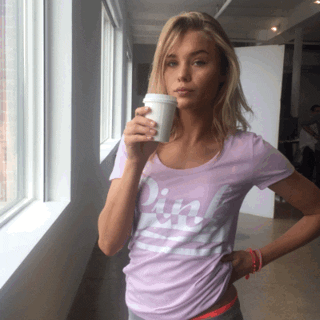 Tell me something random about today!
Coffee lovers, what is your favorite coffee right now?
Usually I would just say an Americano or just plain black coffee but almond milk lattes are taking over.