Hey there and happy hump day! I've got a few hot tracks and throwbacks to share with you today!! These songs are excellent for running, high energy, or spin class workouts! There is a little something for everyone. And I've also added a spin cycle workout for my fellow fitness instructors!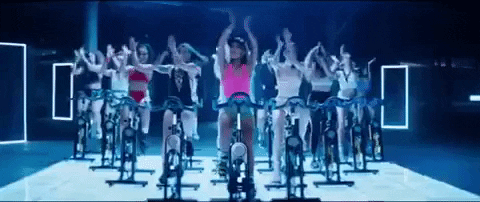 Check out my current teaching schedule here.
+ follow me on Spotify where I post workout playlists on a daily basis.
Let's go for a ride!
Light it Up- Major Lazer, Nyla, Fuse ODG: Warm up
Right Now (Dyro Radio Edit)- Rihanna, David Guetta: Accelerations
Come Get it Bae- Pharrell Williams: Rolling hills
Get Up- Bingo Players: Jumps
Go Girl- Trina, Pitbull: Hill climb
Plain Jane Remix- A$AP Ferg, Nicki Minaj: Seated/standing run
Tip Toe- Jason Derulo, French Montana: Sprints
Hit the Lights- Jay Sean: Tapbacks
One Thing- Mr. Belt and Wezol, Jack Wins: Jumps
Amigo- Tom & Jame: Accelerations
Levels- Nick Jonas: Hill climb
Get Down- RetroVision: Sprints
The Party- Joe Stone: Active recovery
Mi Gente (Moska Remix)- J Balvin: Rolling hills
As Your Friend- Afrojack, Chris Brown: Tapbacks
Run the World (Girls)- Kaskade Club Mix, Beyonce: Sprints
Casio- Jungle: Cool down
What songs are rocking your workouts this week?