–So um TOMORROW IS MY BIRTHDAY and I am excited because I have a fun filled weekend planned. Running, good friends, brunching. All of the things I absolutely love. Plus I am working a half day tomorrow. I know, I should have taken the whole day but ya know…adult career things demand a bit of my attention. So at least I am able to take a portion of the day off.
–Can we just give a shoutout to jumpsuits right now?! Like the one in the pic above. AND ROMPERS. So feeling both outfit choices at the moment…
–I am pretty sure 90 percent of my running workouts this week occurred in some kind of rain or storm. Yes, spring has finally sprung here in TX! And that means lots of random rainstorms. It's okay, cuz it makes me mentally stronger, right?
–I have been oh so busy that I have not seen any of the shows I love. I am actually still behind on the Real Housewives of Atlanta reunion! I still need to watch part 3.
–My Bravo fans- do you think they will bring back Kenya? Phaedra? I think they should bring back both. The more drama rama the better.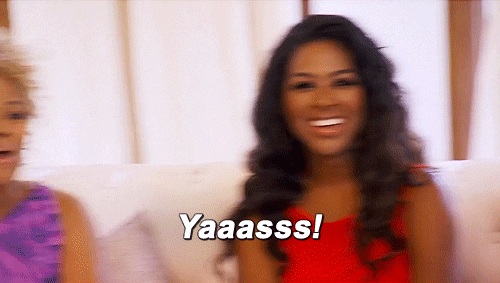 –I think it is funny when women have super long conversations in the women's locker room at the gym. Like we are all nekkid and I just kind of want to wash up and go. Plus we don't really know each other all like that. Some people just like to hear themselves talk.
–Like today this lady was telling us how she somehow jacked up her knees working out cuz she was doing some type of stripper routine on the workout room floor. Apparently she used to be a dancer and the staff approved her to do her stripper dance moves at the gym as her workout.
–THEN she proceeded to show me these 8 inch stripper silver heels, y'all. No lie.
–Can you imagine ?!? I would bust my tail wide open.
–I mean they do have those pole dance workouts? I don't know…not for me. Upper body wise though that workout seems killer.
–My friend wrote this about black coffee on Facebook and I can so relate. Drinking my black coffee right now, actually.
Tell me some random thoughts about your week!