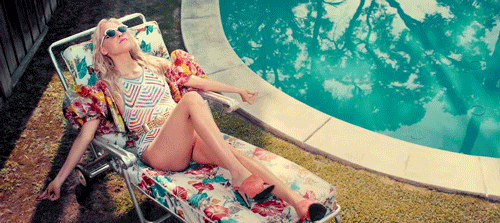 –I am slowly but surely starting to enjoy these VERY HUMID and hot Texas morning runs. Welcome to summer. I mean, it wouldn't be summer running if I couldn't complain about it. Just a little bit.
–For some reason it is a little easier for me to get up and get going for running at 4:30 AM, than at 5:30 AM? Even if I get the proper rest. Not sure why. I guess my body is just used to the earlier run time. But then if I try to "sleep in" I feel super sluggish. So strange. I popped right out of bed this morning though at the earlier time and got to work early. All productive like. Love it.
–Has anyone been following this Dominican Republic story? I've never been to Punta Cana either and it was totally on my list. But guess what. Now I WON'T BE GOING. No sir.
–Check out this video at 6:11 and notice how the person's cocktail turns into straight sludge. Freaking horrifying.
–I have this insatiable craving to go to the pool this weekend and just bake. With lots of sunscreen of course. Anyone want to join me? I think I am going to squeeze in some time on Friday afternoon.
–Temps are pushing to triple digits today! That's right. 100 degrees. And my AC is officially out on my car. Of course that would happen…now that my car is paid off.
–I think I'm just going to procrastinate for a bit on getting my AC fixed and uber or run everywhere. That will solve the problem. Ha.
Share some RANDOM THOUGHTS with me on today!