Hey there and HAPPY Friday!!! I got in a glorious solo run this morning and it was just what  I needed. Hello, check out that crazy sky. Crazy beautiful.
Um also, it is National TACO DAY. Oh my goodness! And on a Friday. We are most certainly hashtag blessed.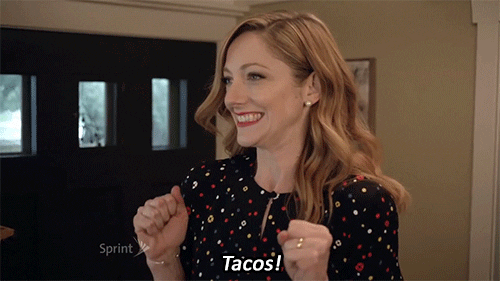 Speaking of tacos I am getting oh so excited about my upcoming ultra race. I even hear talk that there will be tequila at this race. HA! I don't think I've ever taken a shot during a run (I've done beer during an ULTRA) but I may just consider it for this one?! Maybe at mile 50 or something you know, to relieve pain? Hmm.
Let's get to this week's faves!
–Fitness cruises are coming. Hmm. I just may be down for this. Honestly I stepped away from cruises for a while because I got violently ill on the last one. But this may be the game changer.
–Not racing a fall marathon? 5 things to do instead. Old article but I just found it and I'm loving it.
–Smoky cider mezcal margarita. Right up my fall-loving alley.
–Honeycrisp apples are back. I seriously love apples in the fall. Even the red delicious ones. I mean eating an apple may be just the boost of energy that you need – more so than some energy drink perhaps? Maybe. I'm down with that.
And there you have it!
Have a great weekend!
What's on tap for your weekend?
Enjoying the last bit of HOT TEXAS weather (it is supposed to cool down next week a little! Hooray), family and friend time, of course run time.