It is a great day for a race recap, yes?! Hope you all are having a lovely start to the new week. Well, your girl is back in the ULTRA RUN game!! And I tell you what, it feels so darn good. Yes, I said darn.
Well, I've run 31 (and then some) plus miles once again and have lived to tell you the story. I'm still all in one piece but every inch of my body is HURT-TING! But it is a hurt that I know all too well. In fact, I've kind of missed feeling like this. For me, it is the feeling of hard work and pure accomplishment.
So for now, I'll be hobbling around my office at work like this.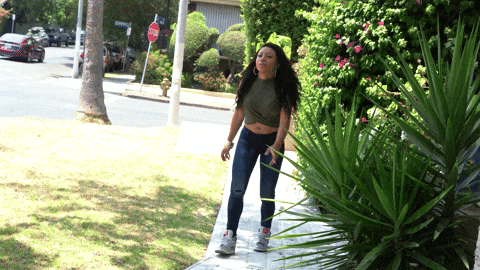 I can't wait to teach spin cycle this week and loosen up these wobbly legs of mine.
Let's review how it all went down.
Saturday, I made my way to the expo and grabbed my packet and etc. I normally just make my way in and then out of the expo but I had to grab a new pair of my favorite moisture wicking socks. You know, sometimes a solid pair of socks makes all of the difference.
I had dinner with a friend then was in bed by about 9. Since I've been doing more after work/evening runs, running in the morning I knew was going to be rough with the 5 AM wakeup call. However I actually kinda just happily popped outta bed. I think knowing I had a race to run and it has been since December since I've done a race (which frankly feels like an ETERNITY) I was ready to get to that dang start line.
Even though I did very little training for this race, I knew mentally it was something I had to tackle. Knowing myself, I know when I want something bad enough I just manifest that shit and make it happen.
So this was my mentality going into it. I knew my finish time wasn't going to be amazing but I have a few other races on the calendar this year so this served as an excellent training run. I ran this race pretty conservatively and just kept with the relentless forward motion. Every time I grew weary or tired I just kept focusing on that finish line and how freaking good it would feel to make it there.
I think even when it has been a while that you've run an ultra…as a seasoned ultrarunner with over a decade of experience….you just have IT IN YOU. That grit, that stubbornness, that strength to know that no one is going to stop you from accomplishing your goal and that to me is the most beautiful part about this sport. With ultrarunning…I have space to be me. My free self. No limits. Just me, the road and my jams. I am so thankful that running ultras has transcended my life and made me a better individual. It is something I'll cherish for the rest of my life.
WTF (where's the finish?!)
The course ends with a bit of a climb but I had just enough in me to pick up the pace and finish strong. My everything was hurting at that point but I made it through. No real cheer section, or crew or folks to pace me. But some days…most days really…that is how I prefer things. I am very much a "me versus me" person. I do not look around to see what everyone else is doing when it comes to me and my abilities as an athlete.
Racing is my time. For me. Sure the bragging rights are cool and all. But me and ultras, we are way past that.
I freaking did it. Again. 31 and then some.
Official results here.
How was your weekend? Did anyone else run a kick ass ultra race?!? Feel free to share and let's celebrate your awesomeness.